After a very busy month we have quite a few new releases. Unfortunately I have not had chance to paint any of them and as usual the photos I have taken are pretty poor. As I already have had quite a number of people asking me to release these ASAP I have decided the photos will have to do.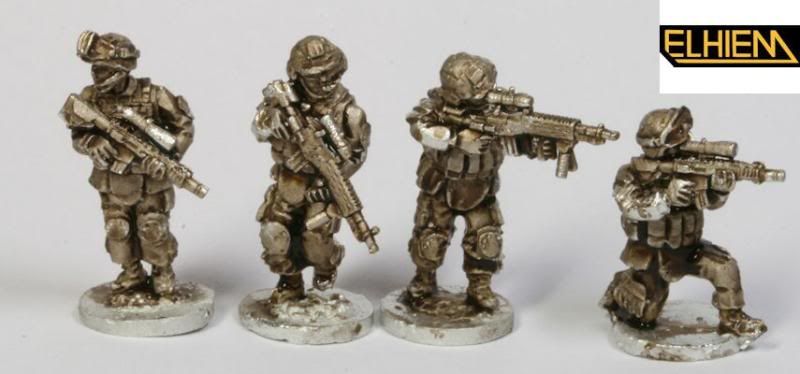 New Releases: All in 'Modern Forces'
Law Enforcement : COPS03 a reworking of the COPS01 set adding the iconic peaked cap.
Iraq and Afghan:
SAD03 PKM Gunner £0.65
RG06 AT-5 and Crew £2.30
OBJ01 Downed Jet pilot running £0.65
OBJ02 Downed Helicopter crew running £0.65
F01 Special Forces (generic) vehicle crew £1.95
MCA05 USMC Sharpshooters £2.60
MCA06 USMC Support weapons £2.60
MCA07 Sniper team £1.30
MCA08 Specials Shotgun and Medic £1.30
MCA09 Officer and RTO £1.30
OIF07 HUMVEE weapon gunner £0.65
OIF08 Prone with Binoculars £0.65
OIF09 M40 prone and AT4 £1.30
OIF10 Kneeling fireteam £2.60
All figures are 1/72 (commonly known as 20mm).
Next on the drawing board are some wintery WW2 Soviets, so keep checking back to see when they are previewed!
Thanks for looking!
Matt
http://www.elhiemfigures.com